Six by Nine Online Services Legal Notices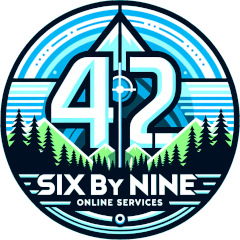 We don't like legal notices, and we know you don't either. We have no desire to police our users. We also live in a society, and we're not going to lie to you and say "no rulez lol" when certain kinds of content can get us taken offline or get our admins in legal trouble. Below you'll find minimum common-sense rules to keep our community and admins safe, as well as specific policies that laws like the GDPR and DMCA require us to publish. We've tried to write in plain language wherever possible.
General Terms of Service
Updated 6 November 2023

All content posted on the public systems we operate is the property of the poster (i.e., you). Our primary goal is to support your freedom of speech—including speech that may make others uncomfortable—but you may not use any of our services to create, share or publish content that incites hate, that directly harms others, or that is illegal in any of the jurisdictions where we operate, including the United States of America, the U.S. states of Oregon and Illinois, the European Union, the Federal Republic of Germany, the Republic of Moldova, and the Republic of Finland. Examples of content that is not allowed include:
content that violates the intellectual property rights of others;

We are not a safe haven for piracy.

hate speech (click for detailed policy);
personal information of others shared without their consent; and
actual or apparent child sex abuse material (CSAM).

This includes photos, videos, and photorealistic illustrations.
We follow our local laws in treating non-photorealistic illustrations ("lolicon"/"shotacon") as artwork when they are clearly fictional and non-obscene, and when no one depicted is unambiguously underage. However, you may not combine sexually explicit artwork of this type with text suggesting that anyone depicted is underage, and you may not use our services to intentionally distribute this type of material to individuals in any of the many locations with different legal standards. Unless you are very certain that the content you are posting is legally protected, we strongly advise you to avoid posting this type of material entirely.
When we are made aware of content that violates any of these rules, we will act quickly to remove it from our systems, and if required to do so, to make a report to law enforcement.

You also may not use any of our services:
to send bulk unsolicited messages (like email spam or unwanted social media messages);
to harass or stalk others; or
to cause harm to other computer systems (like Denial of Service attacks or hacking).
Beyond these general rules, we may remove content or users if we believe they pose a threat to our user community, or to us personally.

If you're concerned about content or behavior that violates these Terms of Service, write to abuse@4d2.org or to:



Six by Nine Online Services
Attn: Abuse Reports
PO Box 25751
Portland, OR 97298-0751
USA



Privacy Policy and GDPR Compliance
By using any 4d2 dot org services, you consent to collection and processing of your personal data as described below.

Data collection by your explicit consent: We collect and process personal information from you as needed to provide the services for which you register. For example, if you register for an Email, Lemmy, Matrix or Linux Shell account, we will collect a username, password and email address from you to faciliate creating that account. In addition, if you create content using that account—like public posts, messages or files—we will (obviously) need to collect the content you've created in order to provide the service of sharing it with others. Some services are also usable in read-only mode without logging in — for example, anyone can read this page, browse Lemmy posts, or preview certain Matrix rooms without us having any knowledge of who you are. If you choose to use our services in this way, we will not collect your personal information, except for log information described in the next paragraph.

Data collection to fulfill our legitimate interests: In addition to information essential to the provision of specific services, we collect your IP address, browser type and version, date and time stamps of access and referring page URLs (if applicable) as part of software logs, in line with industry standards. We retain these logs for short periods of time (e.g. 7 days) for technical support purposes: either to fulfill our internal needs related to the maintenance and troubleshooting of our services, or to assist you when you request support. We do not use this log information for tracking, analytics, marketing, or any other commercial purpose, and we don't share it with any third parties.

Other data collection: None. We do not display others' advertisements or place any advertisements of our own, and we do not use any third-party tracking or analytics tools.

Data processing: We process your data as necessary to deliver our services and to ensure compliance with our terms and conditions. To repeat a previous example, if you create a public post on a discussion platform, we must process your data to display that post to other users. We may also use tools to identify and automatically remove content that violates our terms and conditions. We do not share your data, or otherwise make it accessible to anyone except our datacenter providers.

Our datacenter provider in the European Union is Hetzner Online GmbH, Industriestr. 25, 91710 Gunzenhausen, Germany. A signed Data Processing Agreement is on file. To request a copy of our DPA, please contact the Data Controller (see below).

Our datacenter and hosting providers in other (non-EU) jurisdictions are Akamai Technologies Inc., SmartHost LLC, Digital Realty Trust, 1984 ehf., Stark Industries Solutions Ltd., AlexHost SRL, and Hetzner Online GmbH.

Disclosure to law enforcement: We will disclose user data to law enforcement agencies if ordered or required by law to do so.

Your rights to your data: At any time, you have the right to request copies of your personal information held by us, to request changes to that information, or to withdraw your consent and request that we close your accounts and purge your personal information from our records. To make any of these requests, please contact our Data Controller via email at gdpr@4d2.org, or via postal mail at:



Six by Nine Online Services
Attn: Data Controller
PO Box 25751
Portland, OR 97298-0751
USA



Please provide as much information as possible to help us respond to your request. Since we don't generally collect actual names or mailing addresses from our users, providing other identifying details such as usernames, email addresses and IP addresses can help us locate your records.

We extend the same data privacy rights to all of our users. It is our policy to voluntarily honor data requests whether or not you are an EU resident subject to the GDPR.

Note regarding children's personal data: Children under 13 years of age may not register for or use any of our services. If you think your child may have provided personal information to us, please contact us immediately so we can remove it from our records.


DMCA Compliance
Six by Nine Online Services respects the intellectual property rights of others. Per the Digital Millennium Copyright Act (DMCA), we will respond expeditiously to claims of copyright infringement on our platforms if submitted to our Copyright Agent as described below. Upon receipt of a notice alleging copyright infringement, we will take whatever action we deem appropriate within our sole discretion, including removal of the allegedly infringing materials and termination of access for repeat infringers of copyright protected content.

If you believe that your intellectual property rights have been violated by us or by a third party who has uploaded materials to our website, please provide the following information to the designated Copyright Agent listed below:

A description of the copyrighted work or other intellectual property that you claim has been infringed;
A description of where the material that you claim is infringing is located on our platform(s);
An address, telephone number, and email address where we can contact you and, if different, an email address where the alleged infringing party, if not we, can contact you;
A statement that you have a good-faith belief that the use is not authorized by the copyright owner or other intellectual property rights owner, by its agent, or by law;
A statement by you under penalty of perjury that the information in your notice is accurate and that you are the copyright or intellectual property owner or are authorized to act on the owner's behalf;
Your electronic or physical signature.
Six by Nine Online Services may request additional information before removing any allegedly infringing material. In the event we remove the allegedly infringing materials, we will immediately notify the person responsible for posting such materials that we removed or disabled access to the materials. We may also provide the responsible person with your email address so that the person may respond to your allegations.

Pursuant to 17 U.S.C. § 512(c), Six by Nine Online Services' designated Copyright Agent is:



Jonathan Bailey
CopyByte
3157 Gentilly Blvd Suite 2254
New Orleans, LA 70122-3872
USA
Phone: 1-504-356-4555
Email: 4d2-dmca@copybyte.com